There's more to Eric Carl than Brown Bears and Hungry Caterpillars!
I'm sure every lover of children's literature has heard of Eric Carl. You have probably read books he has written, and admired pictures in books he has illustrated. What you may not know is that Eric Carl has written over 50 books and illustrated several more. Many of these are now out of print, and I certainly have not read them all, but I sure would love to.
Eric Carl is best known for his beautiful illustrations. His works of art are created by assembling collages from hand painted tissue paper. The stories Eric Carl illustrates are easy to read, engaging, and educational. They promote a rich vocabulary, especially pertaining to animals, and they introduce important topics such as confidence and friendship.
You have probably all read The Very Hungry Caterpillar and Brown Bear, Brown Bear, What Do You See? (Just as a side note, the 3 companion books to this one don't even compare to the original. the words don't flow as well ,but they do introduce several fascinating animals) But, there are several other books in Carl's collection that will quickly win their way into your heart.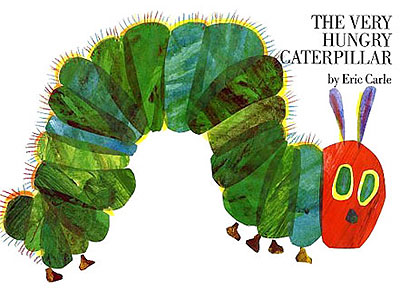 Some of my favorites that you may not have read are:
I have vivid memories of this book from childhood. This book is not only beautiful because of the illustrations, it is also a wonderful picture of the depth (or in this case height) of a father's love. The fold out pages will add extra intrigue to this book, and it's lesson in the lunar cycles will hopefully bring your entire family outside to do your own observing of the moon and it's blanket of stars.
This is a sweet book about a cricket finding his "voice". The main character is lovable, and there is a beautiful sound waiting to greet you at the end.
The persistent little spider spends several pages constructing her web, even though she faces many distractions the spider is not deterred from accomplishing her goal. The web on each page is raised which adds a fun tactile element to the book.
An honorable mention that Carl illustrated but did not write is The Greedy Python Haley received this board books as a gift, and it have loved reading it to her over and over again. It has fun animals, counting opportunities, and a simple moral.
the
Official Eric Carl
website is well worth checking out. You can see a
complete list
of his books, read his kid friendly
blog
, or read and share ideas for
activities
to accompany his books.